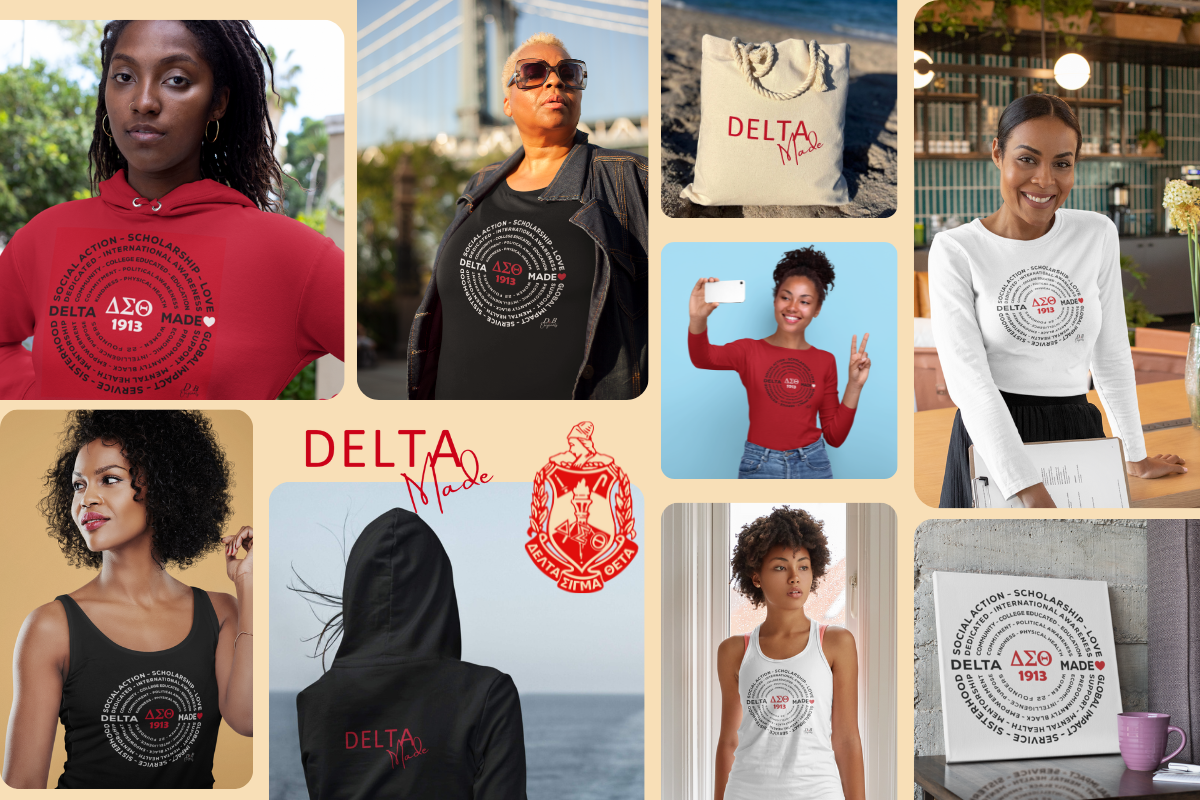 Introducing the Exclusive 'Delta Made' Collection: Available for Pre-Order Now!
Receive a Complimentary 12"x12" 'Delta Made' Print with Purchases of $100 or More!
Shop now
About 'Delta Made'
We're excited to unveil 'Delta Made,' our exclusive new collection for Delta Sigma Theta Sorority, Incorporated, celebrating the powerful legacy of this esteemed organization.
As a certified vendor, we're proud to offer this unique range of apparel, accessories, and canvases, each piece thoughtfully designed to embody the sorority's spirit of unity,
strength, and service. 'Delta Made' is more than just a collection; it's a tribute to the remarkable women of Delta Sigma Theta, Incorporated, designed to resonate with their rich heritage and enduring impact.
What our customers are saying
Sheree

"Your art brings much beautiful energy into my home".

John

"My wife and I met Dwayne at the airport. We loved his spirit and loved even more his T-Shirt. We just ordered two, and we will wear it with pride and honor".

Vontell

"The design is thought-provoking, inspiring and consoling...all at the same time".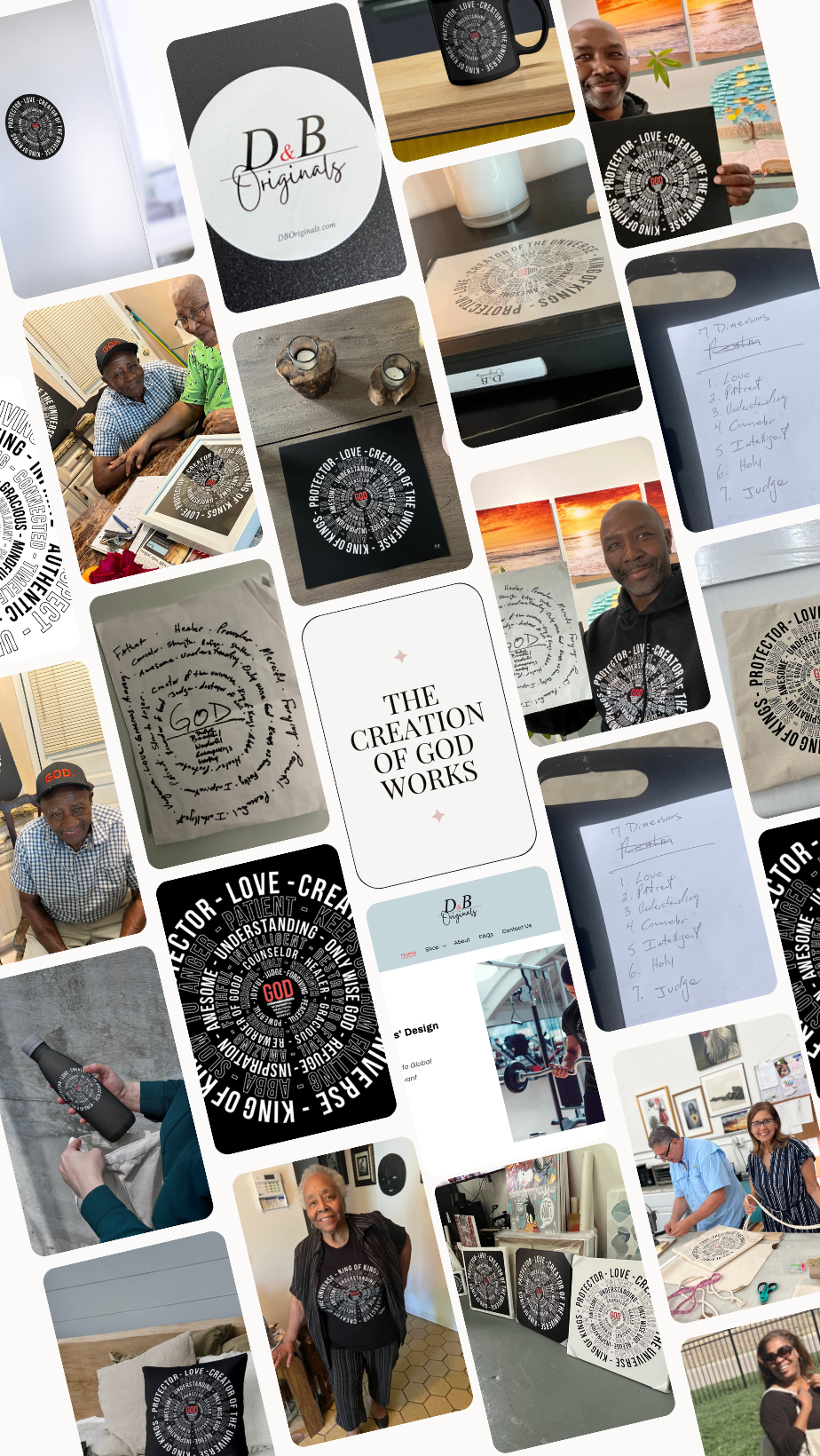 The Creation of God Works
From the co-founder of D&B Originals, Dwayne Bryant:
Throughout the past 27 years, I've had the opportunity to positively impact hundreds of thousands of individuals—national audiences of students, parents, teachers, law enforcement, and other community leaders.
Since the 2020 Pandemic, I have observed heightened levels of human disconnect, anxiety, and uncertainty throughout our society. In an effort to become more effective within this new reality, I decided to equip myself with better tools, knowledge, and information.
In January 2023, my friend Jocelyn, from Faith on the Journey, shared that her organization provides Trauma Healing Training and thought it could be a valuable resource for me. I enrolled at once.
Why choose our designs?
D&B Originals is a visionary design company specializing in creating unique graphics for everyday items, aiming to inspire and motivate individuals to enhance their lives and contribute to the betterment of humanity. 
Original Design

Unique Collection

Inspiring Consciousness

Connecting Humanity
Our Amazing Community
Throughout life, God blesses us with human angels who serve as a guide to help us along our journey.
For some, they remain in our lives forever, while others may have entered our lives for a specific reason. No matter the duration, these Amazing Individuals' love, direction, energy, and guidance creates a greater sense of self-awareness, purpose, and vision within our lives. Because of them, we are better human beings. Although they may not have millions of "likes" or "followers", their value is immeasurable. In "Our Amazing Community" section, we create space to highlight these individuals and share their stories with the world. Individuals who are dedicated to service and making our world a better place for humanity.

Under the "Feature" category, we shine a spotlight on personal narratives of excellence and deep human connections. We invite our community to send in action photos of themselves wearing their 'God Works', or 'Love is Everything' apparel. By sharing your story with us, we can relay your unique journey to the world. As we continue to grow, we are thrilled to showcase our remarkable community.
Feature

Albert J Randall

Albert J Randall is a retired Emmy Award-winning engineer with over 40 years in the broadcast industry. A graduate of Roosevelt University, he's passionate about mentoring young Black Americans for community betterment.

Albert has been an active community volunteer, including work with Junior Achievement and the Proviso Leyden Council for Community Action. Personally, he enjoys cooking and golf, and is happily married to his wife, Kim.

Feature

Alleceia M. Walker

Alleceia M. Walker is a dedicated community advocate with
over 28 years of experience in Education and Community Outreach. Known for her daily devotions on faith and action, she inspires those in her network to make meaningful impacts.

As the Editor in Chief of Lifestyle @ The Intersection, Alleceia focuses on self-care and economics, seamlessly blending spirituality
with practical aspects like real estate and small business sustainability. She is a cherished member of the D&B Originals Tribe and is lauded for her
steadfast commitment to community betterment.

Feature

Jill Brown

"I'm a mother of 3 grown children, and a proud grandma to a beautiful active 4 year grandson..tahj junior (in his voice)
Also passion is road cycling I'm member of Major Taylor Chicago Cycling Club.

I've done Magtag 70.3 Ironman which I was the cyclist 🚴🏽‍♀️ (53 mls) and my children was sooo proud of me for achieving 😜
I enjoy traveling the world by cruising."